Isn't it amusing how many fashion trends are popular worldwide at any given moment?
Everybody in the world knows and adores this design, and everyone has to have one at any cost!
The craze is real. People everywhere anxiously pull away at their shiny paper-covered gifts on Christmas morning, hoping and praying to have that ultimate item!
But wind forward a year or two later, and it's totally forgotten about. "Wait, a what now?"
Let's roll up our sleeves and take a look at some truly loved but sadly forgotten fashion trends of the last few decades.
How many do you remember?
1. The Von Dutch Originals Trucker Cap.
Von Dutch Originals has been around since 1999.
The unforgettable classic trucker caps soared in popularity immediately after celebrities Paris Hilton, and Nicole Richie wore them in 2003 on their (then popular) TV show called The Simple Life.
The duo could be seen sporting the famous Von Dutch caps while working as milkmaids. How classy?
Shortly after that episode was released, the Von Dutch trucker cap TRIPLED in price. Just like that – at the drop of a hat, the Von Dutch cap would set you back $42 to $125.
Other notable celebrities who wore them include; Jay Z and Justin Timberlake.
There was a wide selection of designs to choose from, including some very special limited-edition releases.
Von Dutch Original's tried to make a comeback in 2016. I take my hat off to them for their efforts, but it never really quite took off like before.
2. Rock punk fashion.
Punk fashion was trendy in the 70s and 80s. The style itself incorporated clothing and accessories, hairstyles, makeup, and even tattoos and piercings.
British fashion designer Vivienne Westwood revolutionized this subculture trend into a commercialized, more accessible fashion trend that's still popular today.
Wearing punk fashion wasn't just a trend but a true statement. It was all about being unique, different, standing up for something you believe in, or having something important to say.
3. Denim overalls.
Denim overalls, or more popularly remembered as dungarees, are generally baggy denim trousers with a bib over your torso and are held together with straps over the shoulders.
In the wonderfully wild and crazy colorful hip-hop era of the 90s, denim had become a staple in the wardrobes of much of the western world's younger generation.
What do you expect when top stars like Queen Latifah, TLC, Tupac, Aaliyah, and even the Spice Girls were all showing off this trend?
4. 80s High-top sneakers.
Like many designs, high-top sneakers, or simply "High-tops," were born from sports.
They were initially designed for basketball players in mind. This is because High-tops rise just above the ankles providing additional support to the wearer.
High-tops became incredibly popular in the 1980s with the release of designs such as Nike Air Forces 1, 2, and 3, Reebok Freestyle, and Nike Air Yeezy.
Special mention has to go out to the Converse All-Stars. They created their first High-tops in 1917. Converse All-Stars have managed to remain a classic staple in wardrobes around the world today.
5. Flares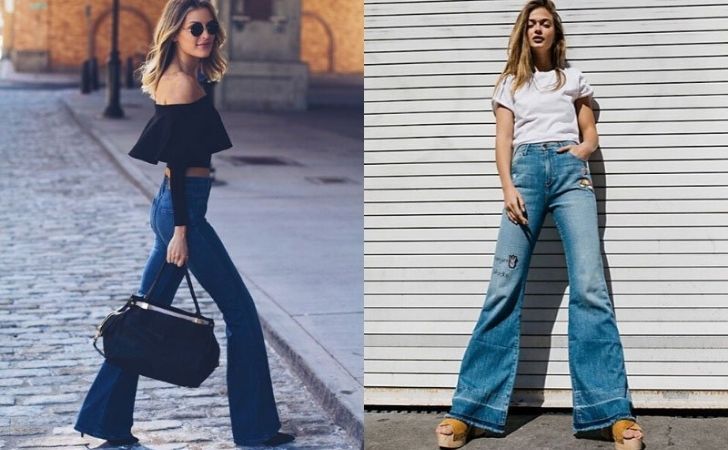 Last – but not least, the Flare (or Bell-Bottoms)! Flares are a type of pant that are tighter at the knee and spread out at the bottom to create a "flare."
Would you believe it if I told you that these originated in the early 19th Century? It's true; they were a top choice for many US sailors!
But in more recent years, the modern flare was trendy between the 1960s and 1990s.
With the help of Sonny and Cher, they were brought into the mainstream in the 1970s, after wearing them in their popular TV show called Sonny and Cher Comedy Hour.
There we have it, five past fashion trends many of us will remember quite well.
There's no telling if any of these past trends will make a comeback or not.
I'll leave these with you…